The truth is that, while complicated, ignoring one of the largest social platforms could potentially leave a lot of traffic/revenue on the table. Generating traffic with Instagram is NOT impossible, and we can help set you up for success.
Instagram is a complicated beast. Generating traffic with Instagram is notoriously complicated, as there is no place in the main feed for link sharing. So how do you even start? Is it worth the time and money to build and execute an Instagram strategy? If the "link in bio" option feels too thin to hinge a strategy on, read on. We can help!
Create high-quality, on-brand content
Content is king, right? Make sure your feed represents who you are and speaks to your audience. If you need some help understanding your audience and what they are looking for, True Anthem can dive into your metadata and give you some in-depth information. You have to build the foundation first.
Knowing your audience means understanding whom you are talking to. Spend some time with your audience data. Learn about what they care about, where they live, and how they consume your content. You can even create personas – names and all! The reality is that 23-year-old Luis from San Diego probably has different needs and content consumption habits than 47-year-old Linda from Indiana. Identifying geographic and demographic information, device usage, ideological affinities, and any other affiliations your audience has will help you make strong decisions. In short, knowing how to speak the language of your consumer is critical.
Once you've understood your audience, it should be easier to focus on content that will fulfill their needs. Are you a recipe brand? Awesome! Figure out your wheelhouse and serve your audience what they're looking for. A diverse feed full of beautiful imagery, high-quality videos, and relevant text will help keep your audience coming back.
Know your end game
The likes and comments feel really good, right? As a social media manager, it is great to show these wins to your boss. Upping your engagement week over week is an excellent story to tell. But how much long term benefit will that bring? Are you gaining followers that will continue to engage with your content? Are they sharing with a broader audience? Or maybe what you need is sales. Is your high trafficked content converting?
Figuring out what your end game is imperative for success. All the clicks in the world don't matter if you're not monetizing those clicks or retaining that audience. Focus on driving results for the KPIs that matter to you.
If you're wondering what should matter to you, think about what keeps the doors open. Is your company paying its bills by selling products? Then your KPI should be conversions. Are you a non-profit that is banking on donations? Then your KPI is donations. Are you trying to generate ad revenue? Then those pageviews and click-throughs matter – you have to have traffic to sell ad real estate. Whatever it is that keeps your bills paid and your audience happy should be your chosen KPI.
In-platform link options on Instagram
No, you can't add a link in your captions, comments or anywhere in feed. You can however update links in a couple different places. Here are the in-platform options for generating traffic with Instagram.
No, you can't add a link in your captions, comments, or anywhere in the feed. You can, however, update links in a couple of different places. Here are the in-platform options for generating traffic with Instagram.
Link in bio:
Link-In-Bio is the most traditional way to get clicks from Instagram. It's done by simply adding the link in your bio page, and needs to be updated. The downfall is you're relying on the user to click through to your bio and find the link, adding extra steps for both you and the user.
Some scheduling apps like Later will allow you to schedule an updated link in bio with the post. To use this, you'd need to set up your caption in a way that refers people to the link in bio. The link would update when the post went live. The downfall of this approach is that it only works for the last post. If someone happens upon your post after the next post has gone up, the "link in bio" referral will be incorrect.
Instagram Stories:
The addition of the link sticker means that you can add links to your stories! We no longer have to have 10k followers or a "swipe up" option. It's as easy as adding the sticker to your story.
Make your feed clickable
Yes, there are ways to do this, but it requires a 3rd party tool and it isn't free. Here are some ways to make your feed into a grid where readers can click on each photo: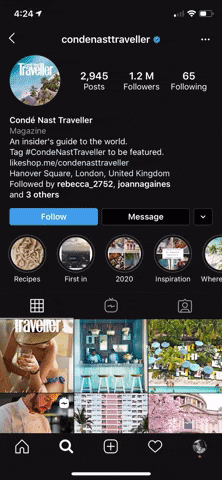 Have2HaveIt: This creates a landing page that you link to in your bio. It looks and feels like your Instagram feed, but each photo hyperlinks out to a unique link.
LinkMyPhotos: Similar to Have2HaveIt, you add a link to your bio that will take users to a replica of your feed, with the ability to add unique hyperlinks to each of your photos.
Dash Hudson: If you're a brand with a bit of a budget, Dash Hudson can handle the clickable feed, scheduling, and just about everything else.
Getting traffic from Instagram isn't hopeless!
You've got this. Be dedicated to your content, use the tools available to you, and start seeing results! Generating traffic with Instagram can be done. If the platform is a fit for your brand, take steps to do it well.
If you want to know how it works, set up a demo today. Also, be sure to subscribe to our newsletter for the latest social media updates.